This store requires javascript to be enabled for some features to work correctly.
Cozy Up With Your Special Someone This Valentine's Day
Discover the coziest way to cook with this cozy cooker. Explore different recipes for the hotpot, grill, and oven - Perfect for a romantic date for 2 this Valentine's Day!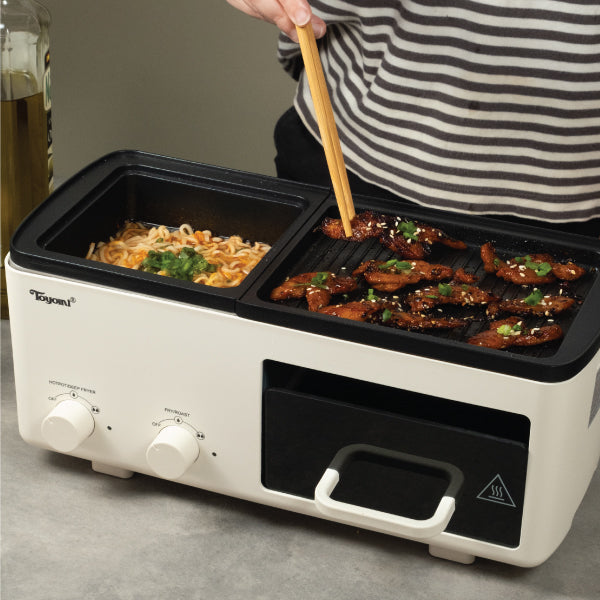 ブルコギ鶏とラーメン
Bulgogi Chicken and Ramen

Ramen Ingredients
Serves 2


2 pack ramen noodles
550 ml of chicken or vegetable stock
½ cup cabbage kimchi, chopped
¼ cup kimchi juice
5 shiitake mushrooms, thinly sliced
1 teaspoon sesame oil
2 eggs
½ scallion, green part only, thinly sliced (optional)
Preparation

1. Bring 550 ml of stock into the pot and turn the knob to high (For Hot Pot/Deep Fry Pot).


2. Add the kimchi juice, kimchi, shiitake mushrooms and sesame oil. Bring to a boil and simmer for 5 minutes.

3. Add the noodles and cook for 2 minutes. Add the eggs let it simmer for a bit longer and garnish with the scallions if desired. Serve immediately.

Bulgogi Chicken Ingredients
Serves 2


300g chicken thighs, skin removed, and sliced
2 tablespoons korean bbq sauce marinade
½ scallion, green part only, finely chopped
1 teaspoon toasted sesame seeds
Ground black pepper
Olive oil
Preparation

1. Marinate chicken with korean bbq sauce and set aside in the fridge for 2 hours. You can marinate it for a shorter time, but the chicken will be less flavorful.

2. Turn the knob (For Fry/Roast) to high. Brush the hot grill with olive oil and lay the chicken on top. Grill for 3-4 minutes each side.

3. When chicken is cooked through, add black pepper.

4. Serve immediately and garnish with toasted sesame seeds and scallions.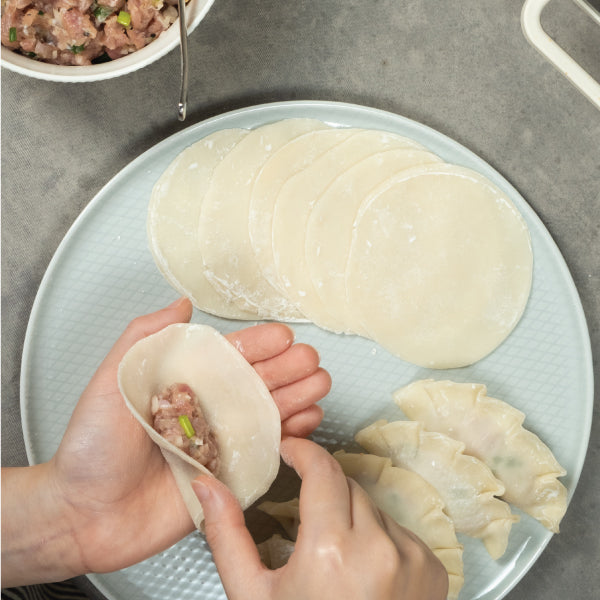 日本の餃子
Gyoza
Gyoza Ingredients
50 dumplings


Gyoza filling:


400g lean ground pork or chicken
⅛ head of cabbage, diced
4 dried shiitake mushrooms, soaked in hot water, finely chopped
1 clove garlic, peeled and grated
1 thumb-sized ginger, peeled and grated
1 teaspoon salt
1 teaspoon black pepper
2 teaspoons sesame oil 
2 teaspoons soy sauce
½ scallion, finely chopped

Dipping Sauce:


2 tablespoons soy sauce
1 teaspoon sesame oil
1 teaspoon rice wine vinegar
½ teaspoon minced garlic


Preparation

1. Combine the ground meat, cabbage, shiitake mushrooms, salt, black pepper, sesame oil, soya sauce, garlic, ginger in a large bowl and mix well.

2. Place a gyoza wrapper on the palm and put 1 teaspoon filling in the center of the wrapper. Brush the edge of half the wrapper with cold water. Fold the wrapper into half and start making a pleat together with your fingers. Repeat folding for the remaining wrappers.

3. Turn the knob for (For Fry/Roast) to high, add 1 tablespoon of olive oil and arrange 5-6 gyoza in the oven tray. Cook the bottom of the gyoza until it turns golden brown for 3 minutes. Add 100 ml water to cover bottom of oven tray cover with lid and cook on medium heat for 6-7 minutes or until most of the water evaporates.

4. Transfer to a plate and serve it with the dipping sauce.