This store requires javascript to be enabled for some features to work correctly.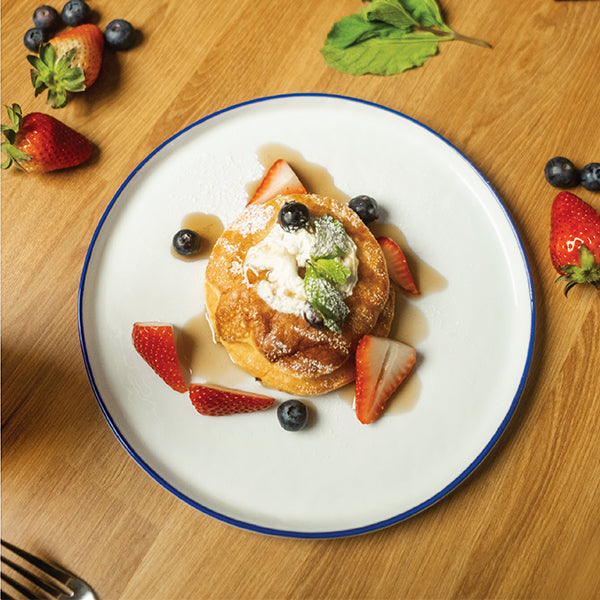 スフレパンケーキ
Soufflé Pancakes

Pancakes Ingredients
Serves 1


2 large eggs
2 tbsp whole milk
½ tsp vanilla essence
3 tbsp cake flour
½ tsp baking powder
½ tsp lemon juice
2 tbsp sugar


For Toppings
1 tbsp powdered sugar
Fresh berries (strawberries, blueberries, etc)
Maple Syrup

Egg Yolk Preparation

1. Separate 2 egg yolks from egg whites.


2. Add 2 tbsp of milk and ½ tsp of vanilla essence into the egg yolk mixture.


3. Sift 3 tbsp of cake flour and ½ tsp of baking powder into the same mixture.

4. Gently stir the mixture with a whisk to combine thoroughly. Do not overmix.

Egg White Preparation

1. Add ½ tsp of lemon juice into egg white mixture.

2. Start beating the egg whites with a hand mixer.

3. Add 2 tbsp of sugar into egg white mixture and mix until stiff peaks form.

Pancakes Preparation

1. Add 1 scoop of egg white mixture into the egg yolk mixture and gently stir.

2. Add the mixture into the remaining egg white mixture.

3. Lightly grease the pan and add a ladle of mixture into a pan on medium heat.

4. Sprinkle 1 tbsp of water. Cover the pan and cook for 3 minutes.

5. Flip and cook for another 3 minutes.

6. Plate with fresh fruits, whipped cream and maple syrup. Sift icing sugar on top and enjoy!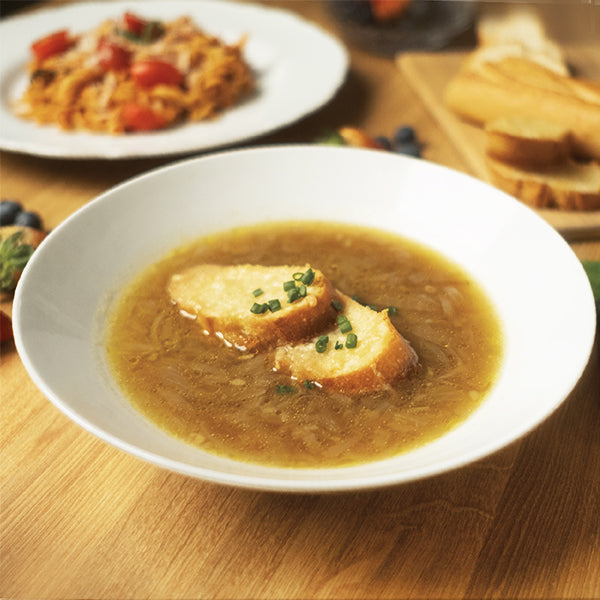 フレンチオニオンスープ
French Onion Soup

French Onion Soup Ingredients
Serves 5-6


5 onions
3 cloves of garlic
Chives for topping
4 cups beef stock/broth
1 ½ tablespoon flour
30 g butter (⅛ cup)
1 tablespoon olive oil
1 teaspoon sugar
½ teaspoon salt
¼ teaspoon black pepper
Soup Preparation

1. Add butter, olive oil, onion and salt in a large pan.

2. Cook them on low heat for 20 mins, stirring occasionally.

3. Add the garlic in and continue to cook the onion and garlic until you get a deep golden brown colour.

4. Add pepper, flour and give it a stir. Pour the beef stock in and let it simmer for another 20 minutes.

Baguette Preparation

1. Preheat your oven to 180 degrees for 10 minutes and slice the baguette. Drizzle with olive oil, add the cheese and toast the baguette for 15 minutes.

2. Serve the french onion soup with a cheesy baguette slice. To make it extra special, add some chopped spring onions on top.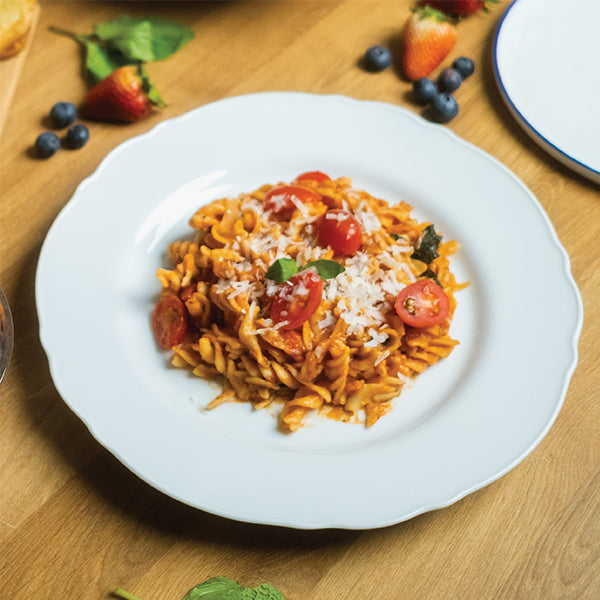 ワンポットトマトペースト
One Pot Pomodoro Pasta

Pasta Ingredients
Serves 5-6


One packet of Fusilli pasta
1 cup of cherry tomatoes
1 can diced tomatoes with basil and oregano
1 litres of beef/chicken stock
4 tbsp butter
1 tbsp chopped garlic, about 4 large cloves
1 tsp dried basil
1 tsp salt
1/4 tsp pepper
1/4 yellow onion
Shaved Parmesan cheese
Thinly sliced fresh basil leaves
Pasta Preparation

1. Add pasta on the bottom of a pot.

2. Pour in the rest of the ingredients.

3. Bring the mixture to a boil, then simmer until the pasta is al-dente. Do not overcook


4. Plate the pasta, top with shaved parmesan cheese and fresh basil leaves.